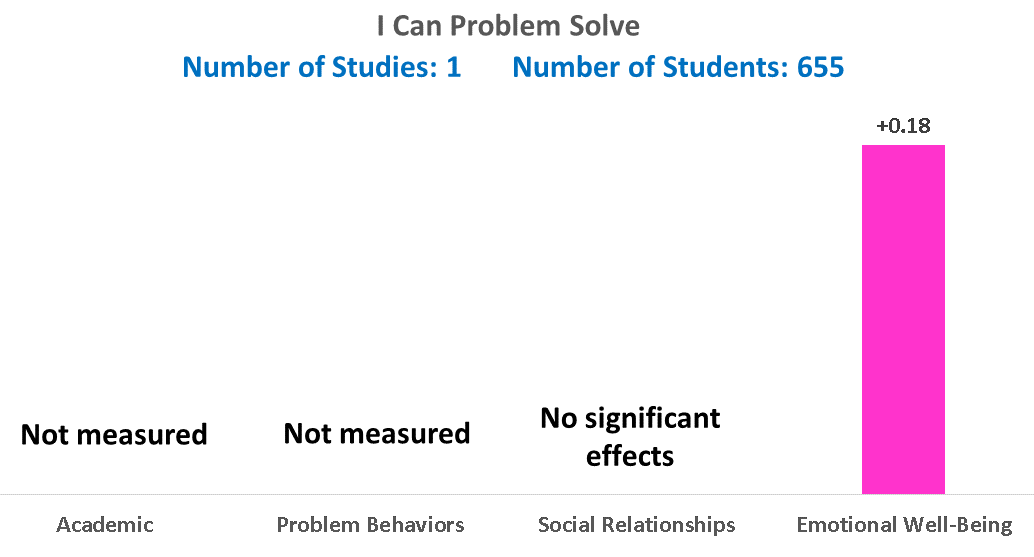 Strong
Moderate
Promising
Program Description
The I Can Problem Solve (ICPS) program, developed by Dr. Myrna B. Shure, is a prevention program that supports social and emotional learning. ICPS teaches students how to generate alternative solutions, anticipate consequences, and effectively solve problems. It is designed for use in prekindergarten through the elementary grades and is divided into three sets of lessons for prekindergarten (59 lessons), kindergarten and primary grades (83 lessons), and intermediate elementary grades (77 lessons). ICPS can be implemented in large, mid-size and small school districts. It can be implemented as a stand-alone program or combined with other school climate initiatives or social and emotional programs (as was the case in the reviewed research, where a portion of the sample used the parent program Strengthening Families).
Program Outcomes
I Can Problem Solve was evaluated in a study that randomized first grade classrooms from seven schools to receive ICPS alone or ICPS with Strengthening Families, a multicomponent family skills training program, and compared these students to a no-treatment control condition from 5 other schools in the Rocky Mountain region. A total of 655 students participated in the study. Differences were found at the student level on self-regulation (effect size = +0.18), qualifying I Can Problem Solve for a "Promising" rating for Emotional Well-being.
Staffing Requirements
Staff is needed to support implementation. When ICPS is used in classrooms, it is important that the classroom teacher is the primary implementer of ICPS lessons. Lessons are 10-20 min., delivered 2-3 times per week over 3-5 months. ICPS concepts are integrated into classroom routines and instruction becoming part of educational culture.
Professional Development/Training
Training includes 2 full days of on-site professional development, 2-3 hour virtual training following implementation, 5 hours of coaching and consultation. On-going professional support provided as needed.
Technology
None required
Evidence Summary
Emotional Well-Being: Promising